Includes affiliate links that help offset our expenses at no cost to you.
December 25, 2014
These are the second and third guitars to come out of my shop, a matched pair. I built one for our 13-year-old grand-niece Emily while working with our nephew Josh and teaching him to build one for his wife, and we finished them just in time for Christmas (I took these photos on Christmas morning just before packing them up for delivery). They are medium-small gutars (known as 00-size) and made to the same specs although of course they're not quite identical. The tops are Sitka spruce and I cut the backs and sides from the same curly maple board, so I call them "sister guitars". The necks are Spanish cedar and the fingerboards are Granadillo, which I chose for its reddish color to coordinate with the cherry bindings.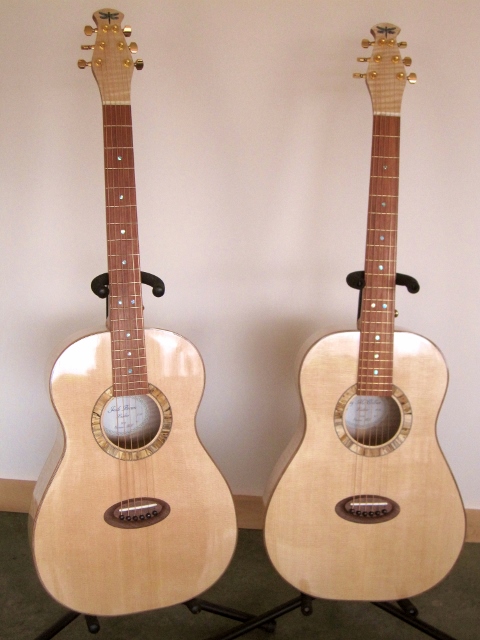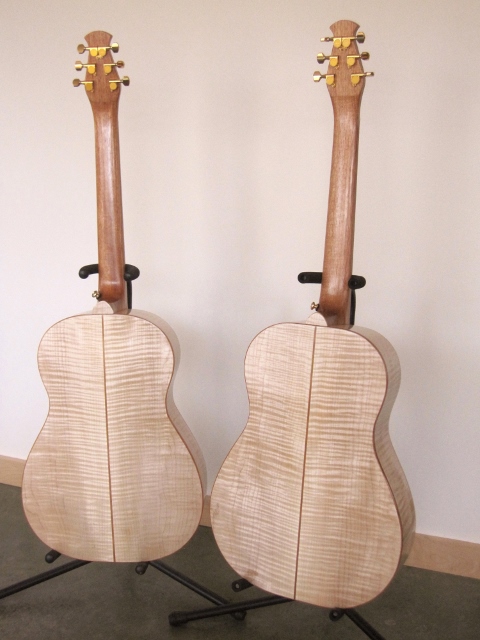 Because of the timing, wanting to apply several coats of finish per day at intervals and trying to get them done in time for Christmas, it wasn't practical for my nephew to come over and do the finishing on his so I did the finish on both of them together. I did the soundboards in French polish with U-Beaut hard shellac. We then polished them by hand, which took quite a while to get a decent sheen and my arm was pretty sore afterward so I promptly ordered a Shop Fox Buffing Assembly for next time!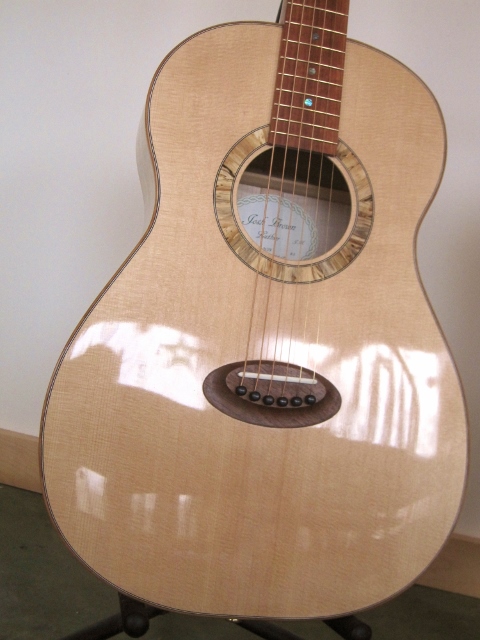 I finished the backs, sides and necks in Tru-Oil with a satin finish. I used a cherry backstrip to separate the two halves of the back so the reversing grain pattern of the curly maple doesn't clash at the center.
Our nephew and his wife recently bought a house with a wooded lot. I spotted a small rotting maple stump in his woods and said "hey, there's guitar parts in that stump!" We resawed the stump into veneer about 1/8 inch thick and dried it, then cut a bunch of rosette segments from it. The rosettes each have 9 segments and I made a plexiglass form just to hold them in a circle for visualization, then we spread out all the segments we'd cut and let the recipients design their own rosettes by arranging the segments as they liked. When finishing them I intentionally left some of the worm holes in the spalted wood rather than filling them in, as I think it gives them a nice earthy character.
I used the same elliptical bridge design that I created for Guitar #1, but I carefully tweaked the dimensions to further reduce the weight.
This was my first time doing shell inlay other than simple dots, and I created the dragonfly design from a photograph I took many years ago. I cut the inlay pocket and the shell on my Rockler CNC Shark Routing System and after a few tries on scrap wood I got a pretty decent fit. With the light curly maple headplate there's no easy way to hide gaps like one could on a darker wood. The wings are paua abalone and I cut the body from black mother of pearl for contrast.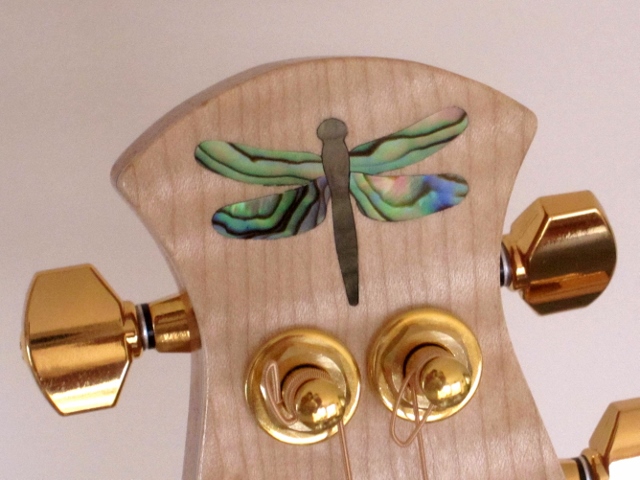 Our grand niece has been learning to play on a borrowed baby Taylor guitar and our nephew's wife hasn't had one of her own before so this is the first guitar each of them has owned. We delivered the guitars on Christmas day and they were both delighted!