March 4, 2011
The first photo below shows the cottage kitchen wall way back when it was first painted, where you can see the deep boxes that we set into the exterior wall to the right and left of where the cooktop will go. These boxes are about 12 inches deep, and the second photo shows how they look now that they are finished, as the tambour doors slide up to provide storage for small appliances.
It would have been convenient to put electrical outlets inside the garages so that we could leave appliances plugged in and just slide them back for storage. But this could pose a fire hazard if an appliance were to be accidentally left turned on while inside the garage. Therefore we decided to put electrical outlets only outside the garages, right above the doors as shown below. This is a bit less convenient but it ensures that we can't put an appliance away while it's still plugged in.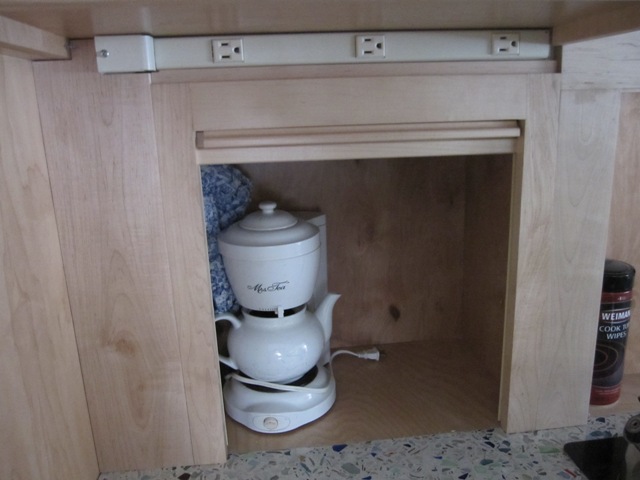 Here's how the main kitchen looked right after the drywall was painted. Whereas the cottage kitchen's appliance garages were set into an exterior wall that was 16″ thick, the main kitchen's walls adjoin other rooms in the main house so we simply left holes in the wall as shown below.
Here's a view of the finished west wall of the main kitchen, with the appliance garage door open and closed. It's 30 inches wide and 16 inches deep so it's big enough to hold several small appliances, and with the door closed it makes things a lot less cluttered.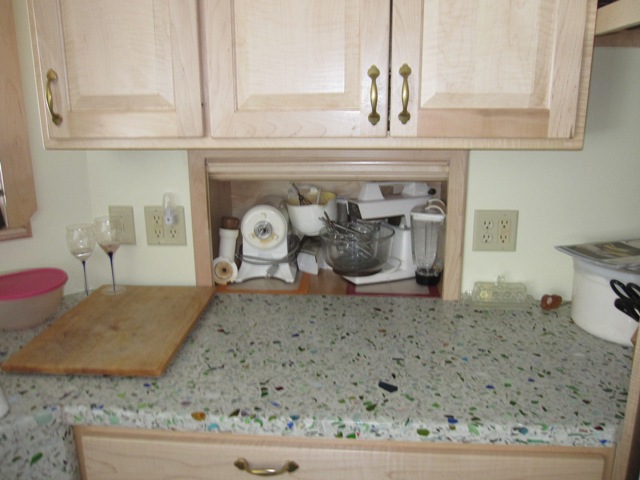 On the north wall of the kitchen is the cooktop with an appliance garage on either side. These are only 12 inches deep but still large enough to store quite a bit.
The cottage kitchen's 12-inch-deep appliance garages were set into an exterior wall that is 16 inches thick so they are hidden, but the main kitchen's wall adjoins other rooms so the plywood enclosures protrude through the wall into those rooms. These will be surrounded by cabinets so they won't be visible once the cabinets are in place. Until then, they make rather quirky shelves. At least they're better than open holes in the walls, especially in the bathroom!