The kitchens are designed to be accessible to users of varying mobility. At first one might see them as "handicap accessible", but really they just provide options for working seated or standing, and things like faucets and door handles that are easy to operate. These things make it easier to use for everyone.
Here are some things we've done to make both kitchens more accessible:
D-shaped door and drawer handles, which are easier to grip than round knobs
Knee space under sinks and cooktops
Various counter heights
Touch-activated faucets. The main water control is a typical single-lever faucet control, but the flow of water can be stopped and started simply by touching any part of the faucet with one's hand or arm. This aids usability and it can also save a lot of water during activities like hand washing dishes where the water can be turned off easily when not actually needed.
Full-extension drawers on lower cabinets, instead of doors and hard-to-reach shelves
Outlets and switches no higher than 46″
Cooktops with front-mounted controls
Main Kitchen
This is an overview of the main house kitchen:
Moving clockwise from the lower left, the main features are:
Sitting Counter – On the lower left you can see what we call the sitting counter, a peninsular countertop that is 30″ high and open below. The sink in this countertop is available from Home Depot and it is only 5″ deep, providing 25″ of clearance underneath so one can sit under the sink if desired. Although it's shown with 45-degree corners in this rendering, we'll probably make the end rounded instead. This counter provides ample space to work in the kitchen while seated, either for wheelchair users or simply for those whose feet get sore while standing. It's also a place to sit and give advice to the cook, as seems to happen a lot.
Dishwasher – On the left of this picture, which is the south side of the kitchen, there's a conventional dishwasher under the counter. It's positioned such that the door won't interfere with someone working at the sink or sitting counter. This countertop has to be 36″ high to accommodate a standard dishwasher.
Sink – The plumbing underneath the main sink is set back as far as possible, to provide room for drawers under the sink. These full-extension drawers will provide lots of under-sink storage that's easy to access.
Refrigerator – Originally we considered using a SunFrost refrigerator, since they are among the most energy-efficient available. But with recent improvements to more conventional refrigerators the difference in performance just doesn't justify spending an extra $2000 on a fridge. So we'll go with a conventional appliance but choose one with exceptionally low energy consumption as rated by Energy Star.
Cooktop – On the north wall of the kitchen is an electric cooktop with sitting space underneath. This countertop is only 34″ high so it provides a lower working surface option, and is a better height for seated use of a cooktop.
Wall Ovens – To the right of the cooktop is a built-in electric wall oven and microwave. The main oven is a convection type, which uses about 30% less energy than a regular oven. We may also opt for a convection microwave, which provides a combination of microwave and convection cooking with less energy consumption than a standard oven, plus its smaller size works more efficiently when we don't need the full-sized oven.
Cottage Kitchen
Here's a view of the cottage kitchen: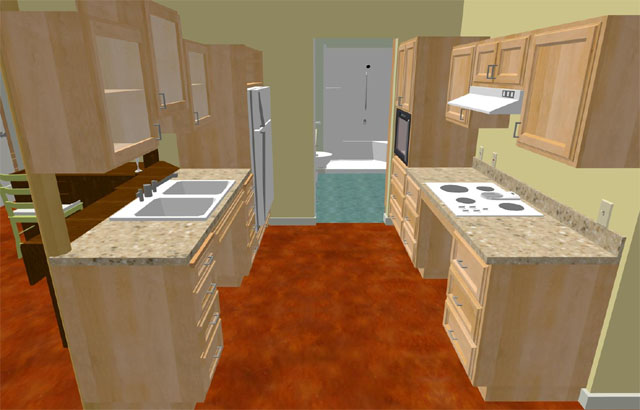 Moving clockwise from left to right, the main features are:
Drawer cabinets – The lower cabinets all have full-extension drawers, and the ones on the sink side also have pull-out cutting boards to provide extra surfaces with sitting space below.
Sink – The sink is open below to allow use while sitting. This countertop is 36″ high so it's not as easy to use while sitting as is the 30″ high sitting counter in the main house kitchen, but it does provide the option to sit at the sink.
Refrigerator – Like the main kitchen, we'll use a conventional but high-efficiency fridge here.
Wall ovens – These are just like the wall ovens in the main kitchen described above, only slightly smaller.
Cooktop – The cooktop counter is 34″ high like the main kitchen, and it has sitting space below. This space and that under the sink can be closed off for extra storage when not needed for sitting access.